About Celeste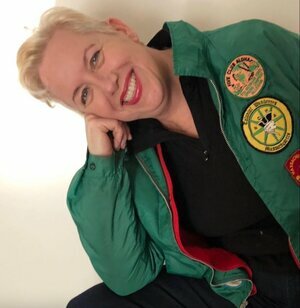 Originally from Greenwich Village, NYC-I grew up around a vibrant diverse community where my mother owned a vintage clothing store for 40 years. Being in that environment, influenced my aesthetic. I make images often nostalgic, brightly colored, using vintage fabric and juvenile in style. I am very interested in how things look from being decayed, aged and worn.
I taught art in kindergarten for 16 years and the looseness, naivety and freedom of the children's art made a big impression on my style of work.
Throughout my childhood I spent a lot of time sewing alongside my mother and her seamstresses that were continuously making clothes from recycled vintage and antique clothing. This has stayed with me through my art and now my "Bathing Beauties" on vintage linen.
I work in a variety of mediums: printmaking, sculpture, painting, sewing and drawing. I am constantly making images.
EDUCATION
1990-93 San Francisco Art Institute-MFA, San Francisco, CA
1985-88 School of the Museum of Fine Arts, Boston, MA BFA
EXHIBITIONS
2020
PANDEMIC TIME OUT- I SPENT MY TIME WITH MY FAMILY AND MAKING NEW WORK, I DIDN'T EXHIBIT
LAUNCHED MY LINE OF BARBIE BULBS CHRISTMAS ORNAMENTS
SCHOOL OF THE MUSEUM SCHOOL/TUFTS WINTER SALE-ONLINE
2019
PRIED
SOCIETY OF ARTS AND CRAFTS BOSTON, MA
HARRY KEMP 125TH BIRTHDAY CELEBRATION GROUP SHOW
JULIE HELLER GALLERY, EAST PROVINCETOWN, MA

2019 WINTER JURIED SHOW 2018 @ DUXBURY ART COMPLEX DUXBURY, MA
2018
FEBRUARY 3-APRIL 21 2018
ART AT PLAY-A MULTI MEDIA GROUP EXHIBIT OF PLAYFUL AND HUMOROUS ART
HIGGINS GALLERY @ CAPE COD COMMUNITY COLLEGE,
BARNSTABLE, MA
JANUARY 29-FEBRUARY 26
SMALL WORKS @ PAAM-PROVINCETOWN ARTIST ASSOCIATION MUSEUM PROVINCETOWN, MA
2017
CATALYST: CRAFT AND SOCIAL CHANGE
NAVE GALLERY

HANDLED-CURATED BY PAT FALCO GALLERY 263-CAMBRIDGE, MA

THE NEW NORMAL-CURATED BY CHUCK MCNALLY SWEETTREE INK GALLERY-GROUP SHOW, WATERTOWN, MA MAY 2017
SMACK MELLON—DUMBO BROOKLYN, NY,
BENEFIT AUCTION FOR THE WOMEN ARTIST'S RESIDENCY PROGRAM APRIL 2017
NASTY WOMAN-KNOCKDOWN CENTER-BROOKLYN, NY BENEFIT AUCTION FOR PLANNED PARENTHOOD FEBRUARY 2017
PAAM (PROVINCETOWN ART ASSOCIATION MUSEUM) MEMBERS EXHIBITION FEBRUARY 2017
THE SEX SHOW— SWEET TREE INK GALLERY-GROUP SHOW, WATERTOWN, MA OCTOBER 2016
1993
CACA @ KIKI— KIKI GALLERY-GROUP SHOW , SAN FRANCISCO, CA CURATED BY NAYLAND BLAKE MAY 1993
PRO ARTS GALLERY-OAKLAND, CA-SAVE THE PENIS-GROUP SHOW CURATED BY THE GUERILLA GIRLS
ANON SALON-GROUP SHOW, SAN FRANCISCO, CA GROUP SHOW 1993
1990
DIEGO RIVERA GALLERY-GROUP SHOW, SAN FRANCISCO ART INSTITUTE, CA 1990
MAKESHIFT GALLERY-GROUP SHOW, PROVINCETOWN, MA 1990